By Jenny |
31
May 2023 |
0
Comments
New Products on 2023
Garberiel flashlights, headlamps, batteries are produced in China, using quality aluminum alloy and chips, selling to customers directly from our factory, therefore we can offer the best price to customers all over the world. In 2023, we launched more products to meet your needs, more convenient and affordable, let's take a look!
1.Garberiel 30W LED Super Bright 5000 Lumens Fluorescent Flashlight Rechargeable
This Flashlight comes with 26650 battery and a Type-C cable. With high power 30W LED, bright light, irradiation distance. Annular cooling. It has five modes, flashlight surface with fluorescent effect, outdoor night easy and fast to find the flashlight. With power output function, can charge mobile phone, Type-C fast charging. Bottom metal hammer design, dangerous time to act as a self-rescue tool!
Price: $35.99
BUY NOW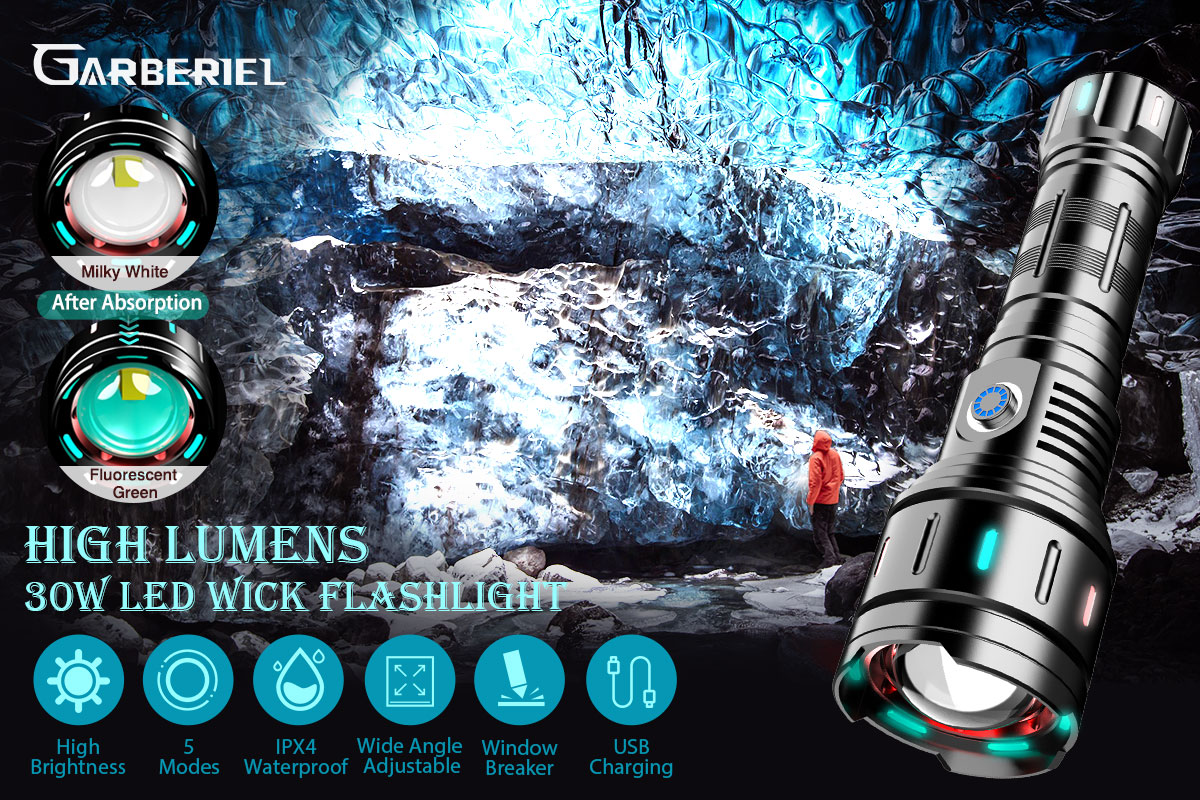 2.Garberiel COB 230° Wide Beam 500 Lumens Headlamp Rechargeable Lamp with Sensor Motion
Outdoor sports headlamp with cob high-light white laser wick, use a variety of outdoor sports
-Intelligent induction, free hands to control switch
-230° Wide Beam
-Super Brightness Wide Angle, built-in 1200mah battery
-Usb charging, support for a variety of charging methods, red LED lamp on the rear to indicate safety warnings.
Price: $19.39 BUY NOW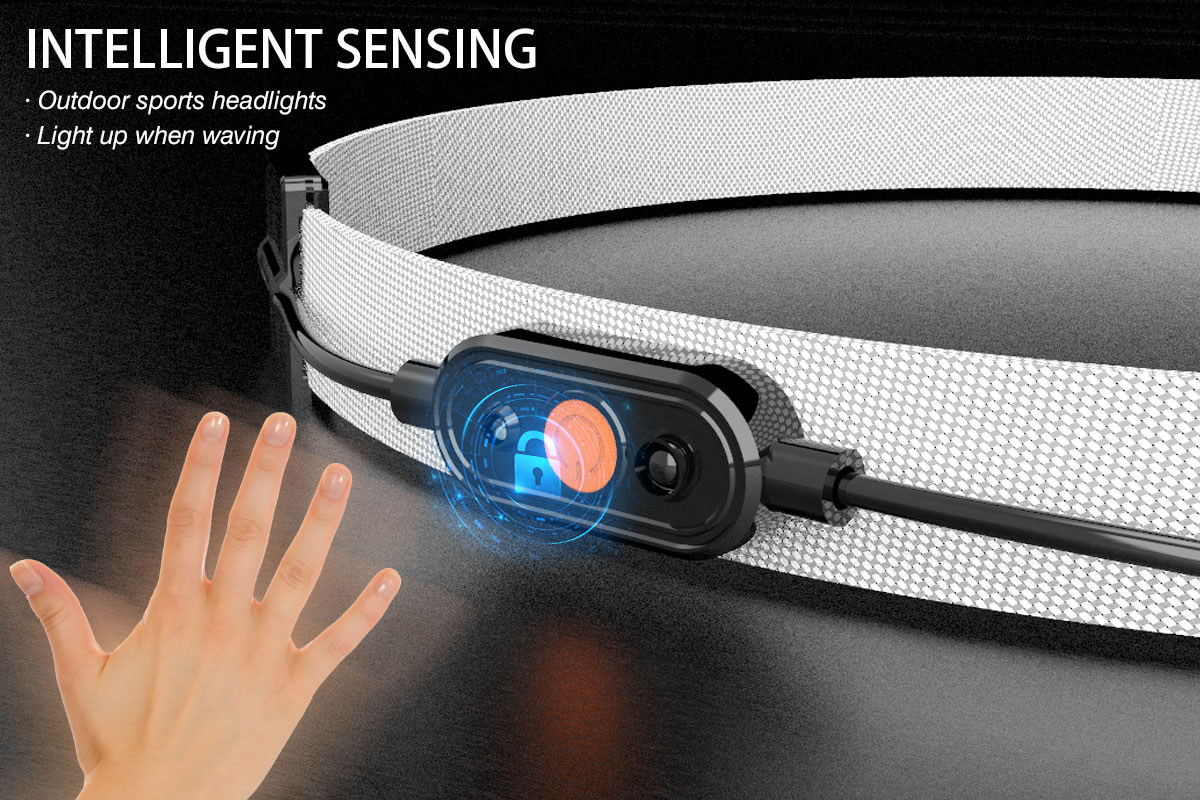 3.Garberiel 20W High Lumens LED Flashlight Adjustable Focus 5 Modes
-Aluminum alloy material, annular cooling design, rapid heat dissipation, prolong the life of the flashlight.
-Include 18650 battery.
-Telescopic focusing, can choose freely focus and flood light.
-The five modes can be switched at will to meet diverse needs.
-Type-C Fast charge, waterproof design, will make your perfect companion!

Price: $26.99 BUY NOW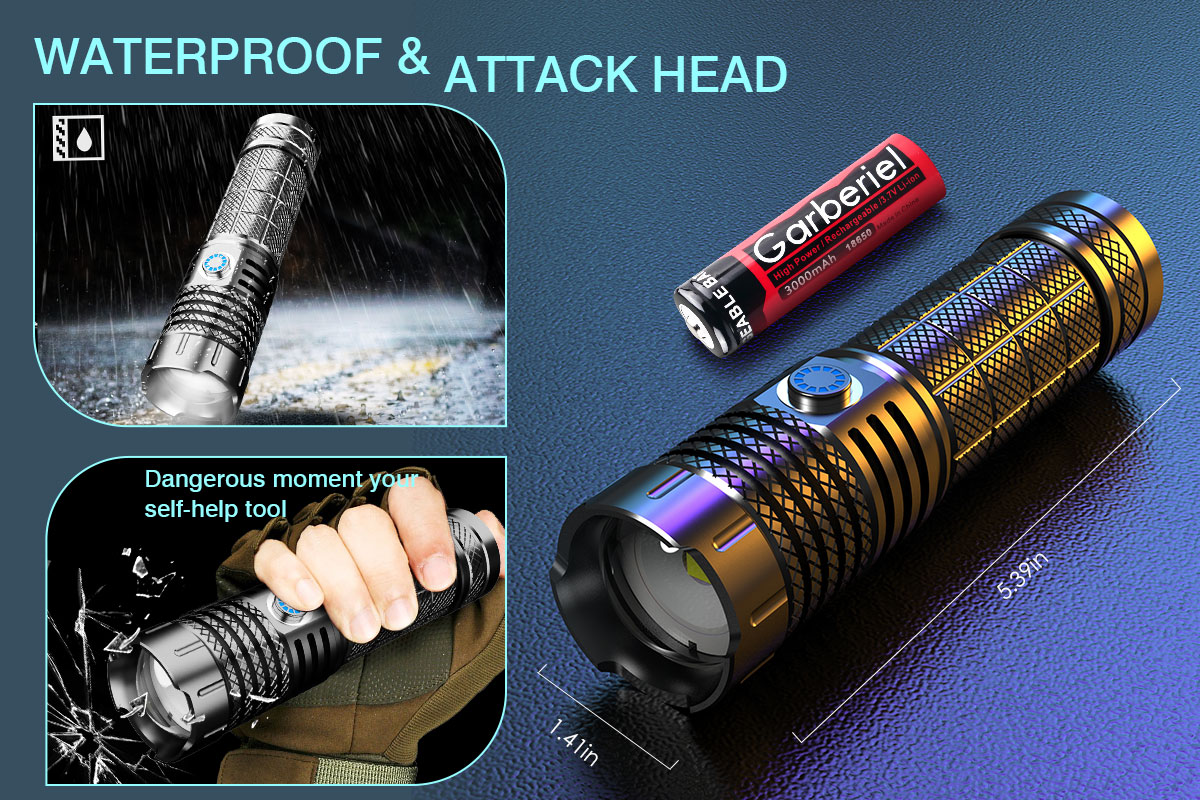 4.18650 Battery Charger 4 Slot LCD Display Smart Charger for Lithium Batteries

18650 Battery Charger 4 Slot LCD Display Universal Smart Charger for Rechargeable Lithium Batteries 18650 26650 21700 17670 17500 16340 14500, Ni-MH/Ni-Cd A AA AAA Batteries.

Price: $24.98 BUY NOW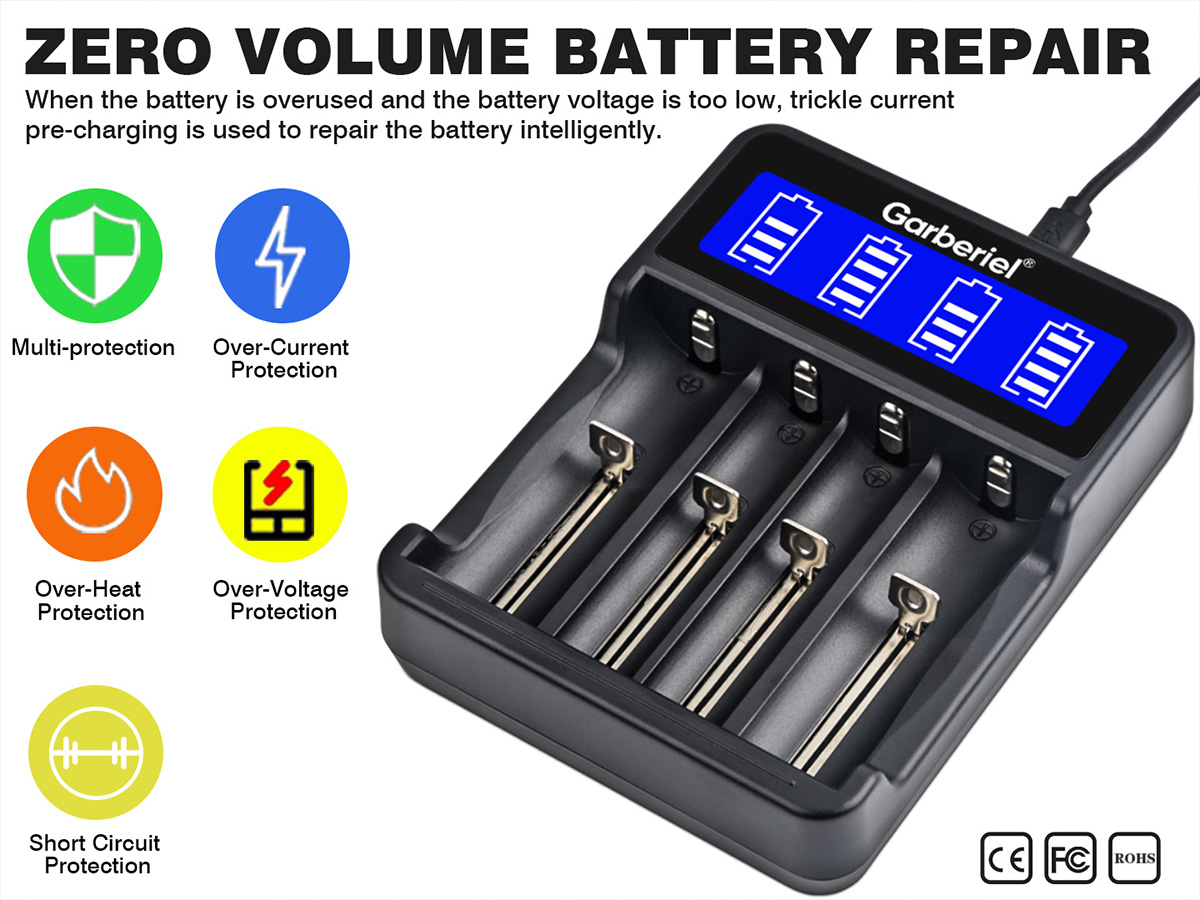 5. Garberiel Solar Charging LED Camping Lantern IPX4 Tent Light Rechargeable Lamp

*Solar Charging LED Camping Lantern are charged in two ways, via solar power or a USB cable.
*4 modes: High- Medium- Flash-SOS
*Real-time control of battery status timely charging, ready fo trouble.
*Built-in 18650 battery life for 6-12H, the metal hooks can be used as handles for easy transportation, and it is very convenient to hang the lanterns inside the tent.
*Suitable for outdoor camping, or as a home power outage emergency light, night hurricane reading, etc.

Price: $21.98 BUY NOW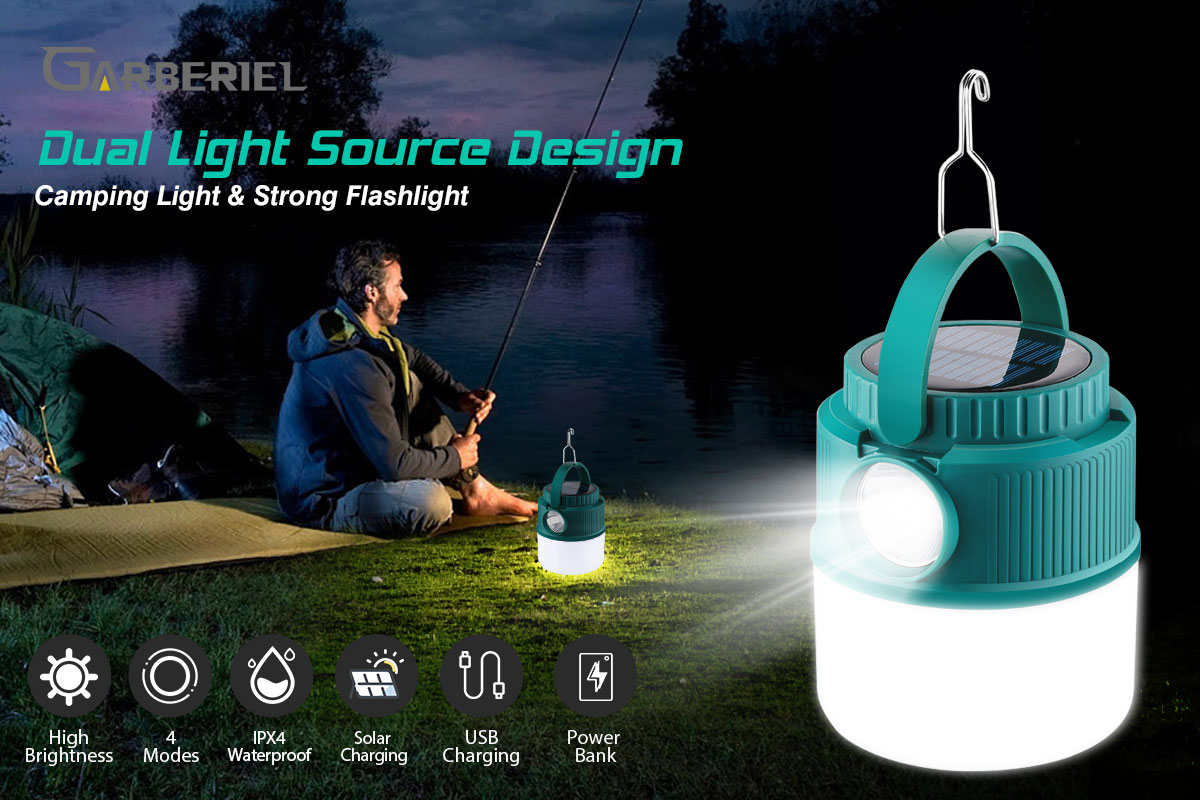 6. Garberiel High Lumen Rechargeable LED Working Light with Lampshades

With High lumen let the night no longer dark. The main light is combined with the cob light. Multiple lighting modes allow you to switch at will. This Garberiel working light with 4 different colors of lampshades. If you are outdoors, red light can be used to be warning, blue light can be used to shine at fish in the water, and green can be used to repel wildlife. The white soft light gives a clear view of the outdoor scene. It's a really perfect outdoor multifunctional flashlight.

Price: 19.98 BUY NOW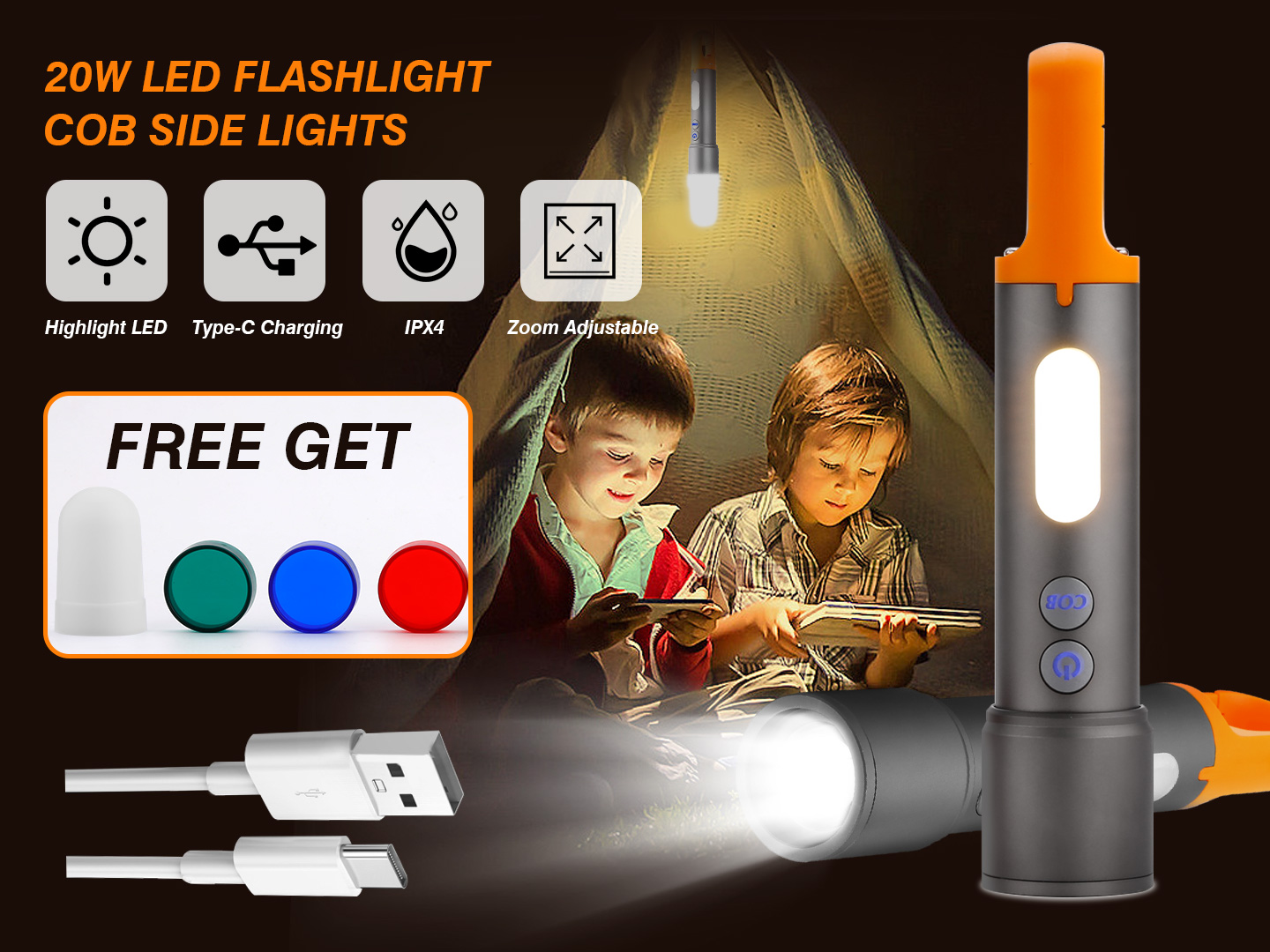 7.Garberiel 20W LED High Lumen Rechargeable Flashlight with Magnet Base

Garberiel 20W LED new high lumen Rechargeable flashlight design with magnet base. If you never want to use one hand to take flashlight do repairing at night, then this flashlight is the way to go! Our flashlights have strong magnets on the tail that can be attached to any iron surface. This powerful tactical flashlight can even be frozen or run over by a truck and it still works! It is very suitable for use in rain, snow, or emergency situations.

Price: $35.99 BUY NOW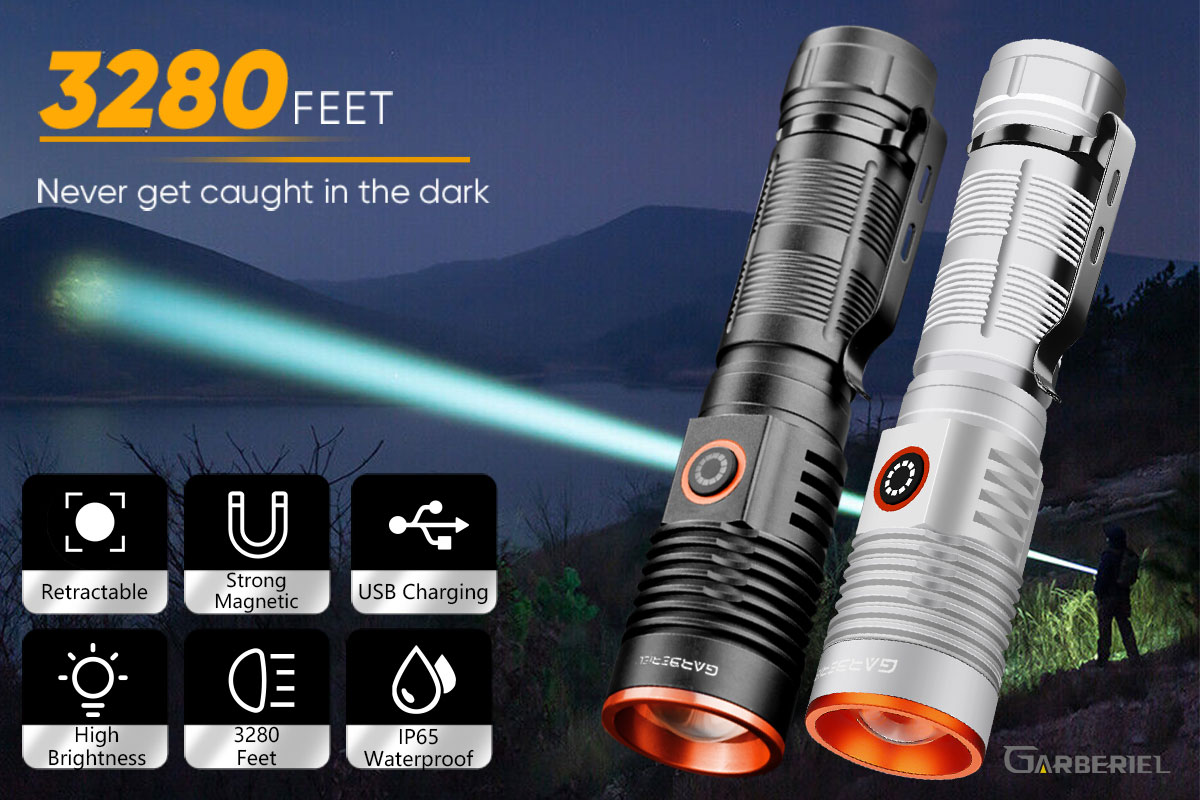 Garberiel promises 30 days return policy, US: Free shipping on orders over $20.00, UK/EU and some of the countries: Free Shipping on orders over $30.00. For more flashlights' detail information please kindly visit our website:
https://www.garberiel.com
Leave a Reply
Your email address will not be published.Required fields are marked. *